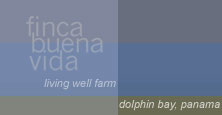 then
I first considered Panama as a place to disappear to in about 1998. There were a total of maybe three websites about the country and all were opportunity-of-a-lifetime, get rich today type real estate pitches. No travel sites, no investment info sites, nada.
I knew Noriega was in jail, but had no idea how stable, corrupt, beautiful or cheap the country was… I quickly found out that what I was looking for – a well priced real estate opportunity in the form of a large tract of titled Caribbean farm land for sale complete with over one kilometre of oceanfront and spectacular views was just a plane ride away.
So, in May 2001 I headed south from Toronto, Ontario, Canada, on vacation from a steady job in the television industry, to seek my future. I found it and after much stress about money, wire transfers, weasely lawyers and possibly the biggest mistake of my life, I found myself camping out on my very own titled 102 acre oceanfront farm later that summer. It was a mix of 'holy crap this is my farm!' and 'holy crap I can't even afford to keep the grass cut around my tent'.
Well, time passed and some properties I posted for sale began to move. It felt great that a few pioneering souls were willing to trade their hard-earned dollars for a piece of some crazy Canadian guy's dream of a life less ordinary. I became less stressed about the idea of developing such a huge project – A sustainable, tropical community with 26 TITLED Caribbean properties for sale in Panama, as well as a Caribbean oceanfront holistic health, wellness and leisure retreat with accomodation for large groups requiring huge infrastructure and development costs – this is what I was foolishly calling a simpler life?
Thankfully I met the love of my life in Luna – a beautiful spirit, mother of my two children and one of the very few unequivocally honest lawyers in Panama. She has helped immensely in getting this project to where it is and for that I am eternally grateful. We have triumphed over many hurdles during the process – construction delays, absurd bureaucratic paper chases, stumbling to make our way in a place neither of us was familiar with, not to mention parenthood – but as I still remind myself even now… it sure as hell beats working for a living!!
Our first residence was in what is now the seaside lounge. As more and more folks arrived to check out land or consider the health retreat as a possible life track, it became clear we needed a different home. Upon it's completion, we moved into the first building of five rooms for rent.
Until I installed the battery and solar panel based electricty system, we used candles and headlamps… Luna still looks back fondly on those evenings of quiet solitude. There was even a time when we did not have refrigeration or a boat!!
…ah, the good old days.