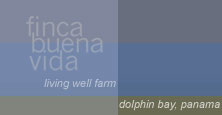 now
'Those who dream by night in the dusty recesses of their minds
wake in the day to find that it was vanity.
But the dreamers of the day are dangerous,
for they may act their dream with open eyes to make it possible…'
T.E. Lawrence
Well, it's been over nine years since I first walked on this farm as the title holder and even longer since I first began hunting for affordable titled Caribbean oceanfront farm land in Panama. Things have come a long way since those 'What the hell have I done?!' days.
The grander project of an eco-resort offering wild dolphin visits, hiking, biking, sea kayaking, quality hammock time and exceptional drinks, in conjunction with a sustainable tropical neighbourhood that offers good value and a distinctive character, is well on track. Almost 3km of completed cart paths, as well as walking, biking and hiking paths can take you all around the 102 acre property.
The vision of a sustainable neighbourhood on a tropical island is coming together with over 80% of available real estate properties for sale, now sold.
The final four titled lots of land for sale are available to meet continued demand for titled oceanfront and oceanview properties in and around Bocas del Toro and Panama in general.
I have no doubt that we, our neighbours and the steady stream of visitors will be making magic on these 102 oceanfront acres of property in Bocas del Toro, Panama for a good many years.