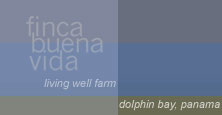 the dolphins
It's true! The dolphins are our neighbours and they never leave town! Dolphin Bay, Panama is one of only three places in the entire world where Bottlenose Dolphins remain year-round.
Most days you can encounter numerous dolphins feeding, teaching their young and playing in the bay offshore – many times they have been observed within 20 metres of the end of our wharf and seaside lounge. If not, it's usually only a few minutes boat ride to find where they are each day.
Interested in organizing a dolphin program of up to 12 people? clickhere
Dolphin Photos from our boat and the seaside lounge verandah.
more dolphin information
And we are right there throughout the day if the dolphins decide to offer an impromptu 'show' whenever they're feeling extra frisky!! It is truly a blessing to have such incredible creatures as members of the local community.
Book our 'Dolphin Homestay Package'
For just $109 for two people you get:
both an afternoon and morning visit to the dolphins
dinner and breakfast
a bicycle for the day to explore the 102 acre Retreat property
a 2 hr.snorkel gear rental with a coral reef right off shore
one night's accomodation in one of our seaside cabanas
transportation from and back to Bocas
All cabanas include seaside verandah, private bath, fans and one queen or two single beds.
Guests of Home on Dolphin Bay arrive well before the morning rush of multiple tour boats from Bocas and are afforded more quality time with the dolphins. Generally, once the tour boats show up, the dolphin actvity dissipates and the late arrivals aren't privy to the amazing activity that visitors to the retreat witness.