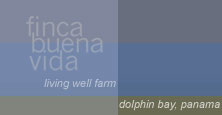 the vision
So I got to thinking and…
I found that the world I was experiencing drained me more and more often. I daydreamed of an easy, happy place where good people, positive people, could pass the day without feeling like their soul is sometimes fading…
A place where the body, mind and spirit are tuned and balanced.
… where manifesting your best self is what everyone is doing.
… where life, love, laughter, and smiles are shared freely.
…where folks step lightly with the land and each other.
…a place that puts living a life before making a living.
…a place like Finca Buena Vida (Living Well Farm)
an artists retreat,
a centre for holistic living
a community
a traveller's overnight home
But mostly a place to leave the quickening pace
of the world behind for a day, a week, a year or a lifetime.
The spinning of the globe is constant, but we are experiencing the most intense momentum that our society has ever lived. This 21st century swirl seems un-natural, out of control. Some say this is the end time, others call it globalization. I figure it's simply a time to begin a new path. Live a different example. Let's arrive back at simplicity. Mutual respect and honesty. Let's rewrite parts of the grand plan and include ourselves this time. Let's allow that it is okay to care less about what the machine has in store for us and more about what we have stored within ourselves….about human connections, with one's self, with friends, lovers and the world at large. With what really matters and accounts for something in the end – the self… at peace.
cuerpo. mente. espiritu.
Speak the Spanish out loud. It sounds beautiful – like a chant. A call to the soul to find some balance. To find a place where body, mind and spirit are fed and nurtured for a while at a time. A place like Home, where friends are met and memories created.
Welcome to a Different Kind of Comfortable…
swanny, Leisurologist